The Federal Trade Commission (FTC) and Commerce Department have each recently released reports and requests for comments on consumer privacy issues. Much attention is expected to be paid to the similarities and differences between the reports. The FTC has a consumer protection and law enforcement mission, while Commerce's mission is  "to foster, promote, and develop the foreign and domestic commerce" of the United States. To contribute to the discussion, I've prepared these word clouds of the Executive Summaries of each of the reports.
The FTC's December 2010 Report, Protecting Consumer Privacy in an Era of Rapid Change: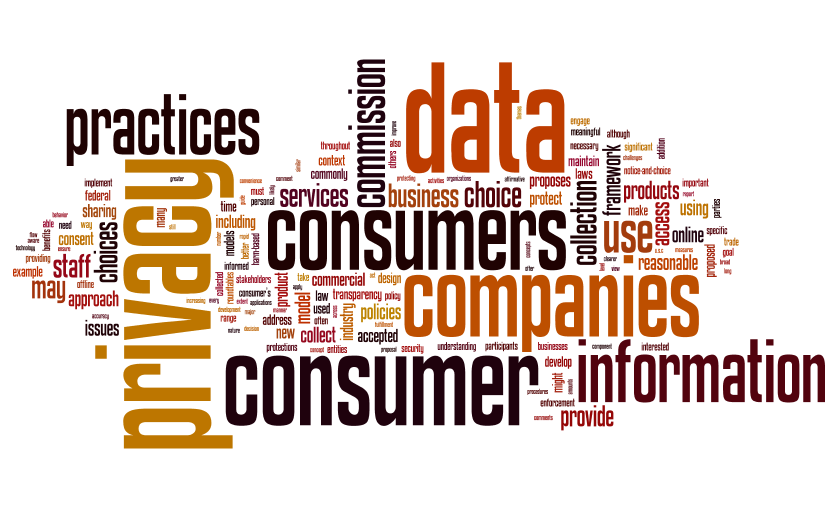 Commerce's report, Commercial Data Privacy and Innovation in the Internet Economy: A Dynamic Policy Framework
The differences are striking. The subject matter — privacy, data and information — is the same. But the FTC seems particularly concerned with consumers (and "consumer"), companies and practices. Commerce's report appears to be more about policy, and commercial concerns. The data subjects — consumers —  the ones with an interest in the data, are barely visible in the Commerce report word cloud. I can't find them there.
UPDATE: At the suggestion of a reader, I've created two new ones. These are meant to tease out the differences more. As suggested, I've removed the large common words ("privacy" "data" and "information"). I've also collapsed the words "consumers" and "consumer" together.
The FTC's Report
The Commerce Report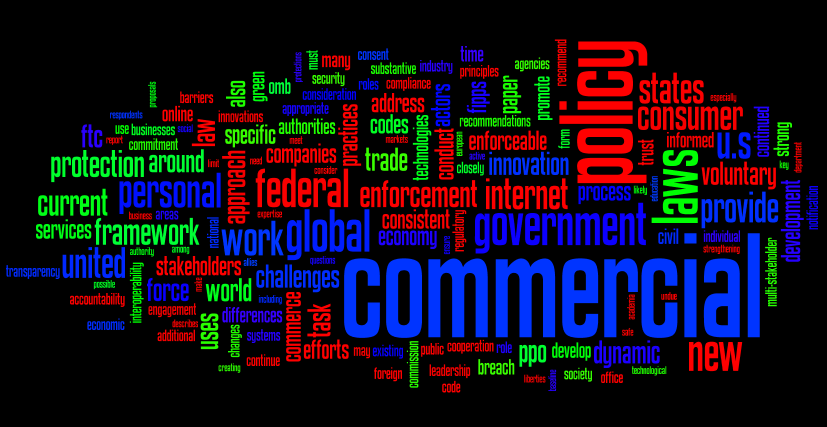 Consumers are now visible in the Commerce report, but the differences in  focus — Commercial vs. Consumers — is made clearer. It appears as if the FTC is concerned with consumers and companies' practices.  While Commerce approaches this from the point of view of commercial policy.